Every once in awhile we get a little nip of info about the Star Wars TV shows. Slowly but surely, Clone Wars is coming along, and the live action show is creeping in behind it. It's just so painful to think that it will probably be several or more years until the live-action show comes to our TV screens - but then again, when it finally gets here, perhaps because so much time will have passed since the last Star Wars film, we will feel a similar nostalgia for the prequels as we have/had for the original trilogy.

Here's the lates nip of info, from the LA Times. Snifters optional (I prefer straight out of the bottle meself):

George Lucas planning 'Star Wars' TV series

"Filmmaker George Lucas said Tuesday that he has "just begun work" on a live-action television series rooted in the "Star Wars" universe, which is huge news not just for fans of the science-fiction epic but also for networks looking for a piece of the Lucas magic that has grossed $4.3 billion in theaters worldwide...





... That model (the upcoming animated Clone Wars series) may also be used for the live-action show, although producer Rick McCallum said Tuesday that it's too early to say. McCallum is interviewing writers for the live-action series.





Lucas is confident he can find a home for his droids and Jedi, but he also knows the projects are unorthodox enough to give network executives pause."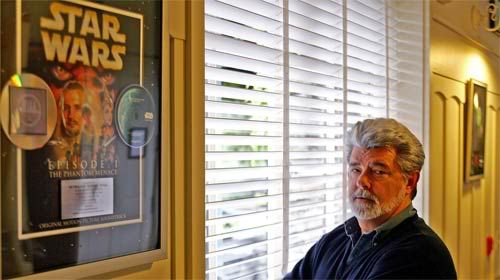 - By Geoff Boucher, Los Angeles Times Staff Writer
October 17, 2007
That's why I think us fans need to encourage George to create his own gorram television network. Are ya with me?
Yeah, I borrowed this pic from the article. Love it!
A couple more niblets for your giblets, thanks to
Club Jade
:
EW.com from Oct. 12 reports on Lucas search for writers
and...
This awesome
insideskywalkerranch.com
link
<--- so amazing I had to borrow a yodacon from starwars.com! (hey - that rhymes)